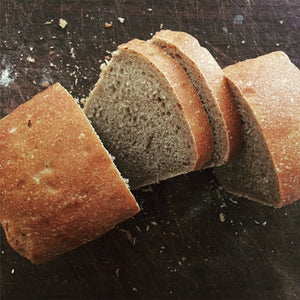 Spelt has become popular for its health benefits, an ancient grain different from wheat, spelt is easier to digest. Enjoy the caramel & nutty characteristics & know that its not just delicious, it's also very good for you.  Made with it's own spelt starter.
Ingredients: certified sustainable spelt flour, purified water, Australian sea salt.
Our three key, and ONLY ingredients are flour water and salt – certified sustainable flour, purified water and Australian sea salt. These are skilfully combined to produce authentic, European style sourdough. Slow mixing, long cool fermented doughs and hand shaping are the traditional methods used to achieve our end product. The culture (leaven) used is nurtured daily and has been maintained since our bakery's beginning.