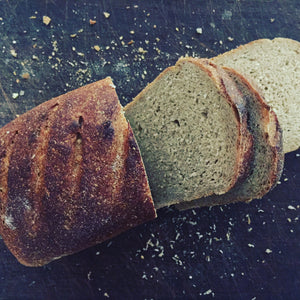 Our rye is made with 50% sustainable rye flour and 50% sustainable stone-ground flour giving this loaf the wholesome flavour of rye but without the density. 
*rye sandwich has pepitas and sunflower seeds on the outside.
Our three key, and ONLY ingredients are flour water and salt – certified sustainable flour, purified water and Australian sea salt. These are skilfully combined to produce authentic, European style sourdough. Slow mixing, long cool fermented doughs and hand shaping are the traditional methods used to achieve our end product. The culture (leaven) used is nurtured daily and has been maintained since our bakery's beginning.