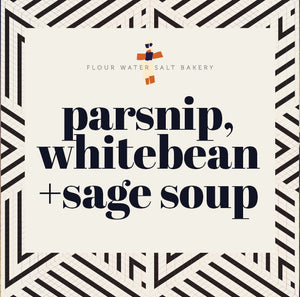 These ingredients go so well together creating a healthy and hearty soup.

This meal comes frozen and will serve 2. 1000ml
Ingredients: parsnip, cannellini beans, onion, sage, olive oil, bay leaf, vegetable stock.
To reheat, thaw soup and reheat in a saucepan. Add a little stock or water in necessary. alternatively, microwave until hot.

keep refrigerated below 4 degrees. made in a kitchen that also processes nuts.