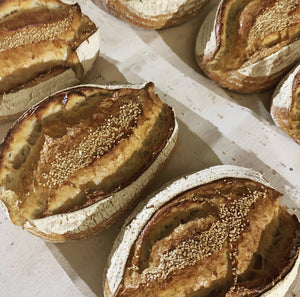 Our kamut loaf is relatively new to our sourdough collection, but it's proving very popular indeed. Most likely because of its super soft texture, is stays moist for days but it has the health benefits of an ancient grain - packed with nutrients like protein, fiber, zinc and magnesium, kamut is a tasty grain that offers a variety of potential benefits. 
Lovely light, chewy texture, it's a popular loaf for all ages.
Ingredients: kamut flour, purified water, sea salt.