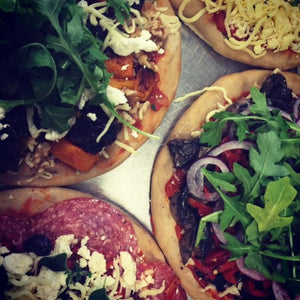 our naturally leavened sourdough pizza base topped with out tomato, basil & confit garlic tomato sauce with various delicious combos. We've included our 3 most popular:
- salami, olive & pesto
- prosciutto & marinated baby fig
- roasted vegetable & pesto

The pizza is delivered FROZEN. All you have to do in transfer to an oven tray and bake in a moderate oven for 20-30 minutes or until cheese is melted & golden.  If you've let it thaw before the oven, might only need 15 minutes.