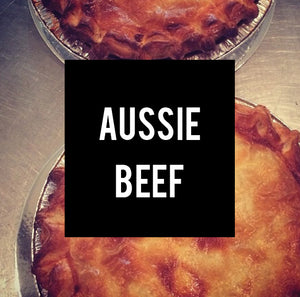 This is our take on the traditional 'Aussie Beef Pie' - simple but rich in flavour. Popular with all ages! Flaky top pastry with a shortcrust bottom pastry. Our pastry is dairy free. 
This product has been baked and is delivered FROZEN.
Generously feeds 4 with a side salad or whatever you fancy really. Thaw and reheat in a moderate oven for 20-30 minutes or until hot through.
Ingredients: Beef mince, water, carrot, onion, garlic, stock, tomato, gravox, pastry (flour, lemon juice, shortening, baking powder, sugar, salt)