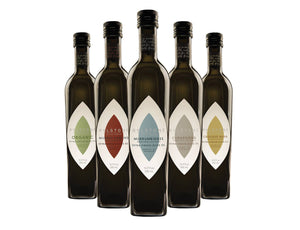 Rylstone Extra Virgin Olive Oil's are an expression of quality and a symbol of Australian pride. "It is important that we make our oils with depth, harmony and balance of fruit and flavour."
Cudgong - fruity & herbaceous
This Extra Virgin Olive Oil will always have complex fruit flavours from the olives and a balance of pepper or pungency to compliment the fruit in harmony.


Crooked River - soft, sweet melon fruit notes
This Extra Virgin Olive Oil will have great fruit length character and pepper to balance but the harmony and is always sweeter flavour.

Murrumbidgee - herbaceous high notes
This blend is our new herbaceous fruit Extra Virgin Olive Oil with a balance of soft warm chilli to harmonize this oil. It is blended from Rylstone EVOO and with EVOO sourced from the Murrumbidgee river catchment. Particularly from ACT and surrounding areas.


Murray Darling - epic & daring
This new blend from Rylstone Olive Press has strong green fruit flavours with a blast of jalapeno and a warm pepper finish. The Murray Darling is blended from Extra Virgin Olive Oils from Rylstone and the Murray Darling River catchment area.